You have set some new goals to improve your fitness level and lead a healthier lifestyle, but you seem to find it difficult to stick to a regular fitness regimen? If you are determined to begin exercising and to stick to this more active lifestyle, here are some tips which can help you:
Properly define your personal reason for regular exercising
In order to be motivated to go to the gym or go out running on a regular, planned basis, it is advisable that you take time to explore the reasoning behind your resolution to lead a more active lifestyle. So, make sure you identify whether the reason is: Is it to lose weight for the summer, is it to relieve the stress from work, is it to fight anxiety or depression, is it because you want to compete in a marathon, etc. If you feel that your ulterior motive is important enough for you, it is more likely that you will stay motivated to stick to your exercise routine.
Set realistic and measurable goals
Whether you want to lose weight or you want to run a half-marathon, reaching your goal should be done gradually and safely. So, instead of setting unrealistic goals for your results, make sure you set short-term objectives which you need to reach, so you can gradually work yourself toward the final result you are anticipating. For example, plan your running and rest schedule carefully, and with the 10% maximum mileage increase per week rule in mind. Overtraining can lead to injuries. Also, if you want to lose weight, make sure you do not do any drastic dieting or set goals which are unreasonable, because this will lead to loss of motivation and possible falling off the wagon.
Take it slowly but surely
Do not plan for months and years ahead. Instead, take it week by week. Set weekly goals, which do not seem as overwhelming as the annual goals may sound. This will make following your exercising program and achieving your goals much more manageable and achievable. Breaking down your annual goals week by week will make reaching your objectives much easier and much more satisfying. Of course, if everything goes according to plan, this strategy will lead to you reaching your annual goals as well.
Give yourself rewards for your achievements and your efforts
Make sure you reward yourself when you are able to achieve the goals you have set. Treat yourself to something nice, such as new exercise equipment or gear, a new pair of running shoes, a SPA procedure, a weekend trip, a night out with friends, cool accessories (hint: crossfit gloves or mp3 player),etc. Of course, avoid overdoing it with the treats, so as not to undo what you have achieved through your hard work.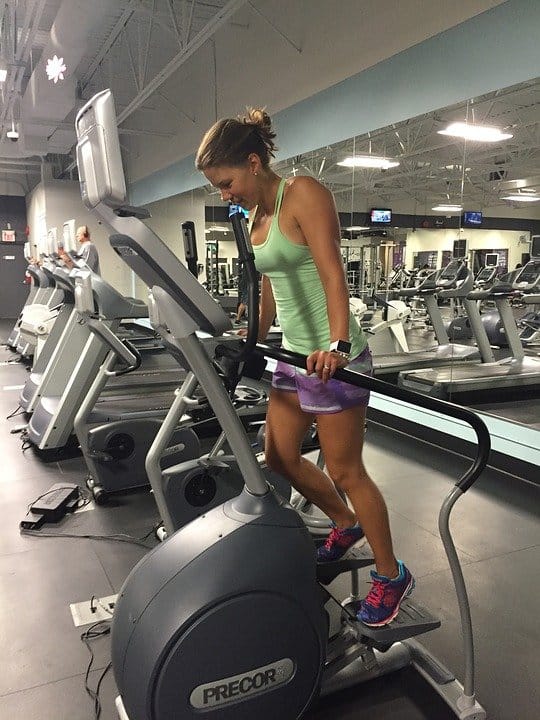 Rewarding yourself will definitely help you stay motivated to stick to your exercising program and to achieve your short and long-term goals. Just make sure that whatever is you award, it inspires you and is
Get an exercise or running buddy
This will make the workout or run much more fun, but will also keep you motivated to show up to the gym or for the run, when you know that your friend is waiting for you. By exercising with a friend, or teaming up with a friend for making improvements to lead healthier lifestyles, you will find that you will be pushing each other to achieve more. You will be able to discuss the problems, difficulties and other issues you are facing whilst working on achieving your fitness goals. In other words, everything is better and easier when you have a shoulder to lean on and somebody close to help keep you motivated to stick to the exercise program you have set for yourself.