Cardio doesn't have to be a snooze fest. It can be fun, original and imaginative. This special workout program requires no additional equipment or weight management. It consists of nine simple exercises, each taking a minute, and all you need is a three square feet of space and a bit of imagination. It's short and fun. So, what are you waiting for? Try it today!
1. We start our session by jogging on the spot with knees raised high, trying to wake the neighbor downstairs. Duration – 1 minute, or until the neighbor awakes, whichever happens first.
2. Next, selecting a playful tune, we lie down with our elbows on the floor, jump-spread our legs and bring them back together.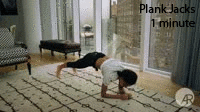 3. We continue by jumping up and down, trying to become one with a frog and pretending not to hear the neighbor complaints.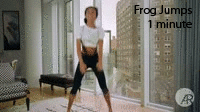 4. Leaving frogs behind, we step forward and knee-kick (most people go with their investment consultant here, with in-laws a popular 2nd) as high as we can, alternating legs (1 minute per leg).
5. Jumping Jacks time!
6. Next, we jump from our right to the left foot while having the arms stretched down: right arm to the left foot and vice versa. If someone sees you doing this, tell them its Brazilian martial arts.
7. Who needs a real skipping rope, when you can imagine one! Just don't let anyone see you this time…
8. The real name of this exercise is – the floor's on fire. Prop yourself on your hands and jump with your feet upwards, away from the burning floor.
9. And the finishing touch — restore your breathing and stretch your legs at the same time. This is what people do when on a deserted island and suddenly spotting a ship passing by. One can imagine they didn't realize it's a great cardio.
Source: fishki.net/1322810-trenirovka-doma.html
Melissa Bell has a strong background in nutrition education, fitness and yoga, and experience working on specialized stretching, bodybuilding and weight loss programs. She is actively studying Japanese, doing research and travelling for conferences while taking care of two children.
Latest posts by Melissa Bell (see all)
Comments
comments