So, you want to be built like a superhero? Since you most likely aren't the last survivor from an alien planet with higher gravity, you'll need to work yourself into shape and build some muscles. Well, we just happen to have these 9 superhero workouts that will 'almost' allow you to emulate your favourite superheroes.
As you are reading this, chances are you have seen the new Avengers movie once or even a few times. Muscle is back on the big screen (we've missed you Arnold!), with our favourite superheroes jammed with well-defined muscles and brutal strength.
To celebrate this and next year's Avengers: Infinity War, we've packed here the best superhero workouts on offer – including Marvel's best, the X-Men and DC Comics' regulars. Because what's life without a superhero costume?
Batman
Unlike some of his colleagues, Batman's powers are all natural (plus gadgets). So, given the right combination of time and motivation you may become the caped crusader! Once you master the required tailoring skills and the workout that builds the strength and power, all you need is a butler.
Abs of Steel
If you are Earth-born and don't have access to a super-soldier lab stocked with muscle-growing serum, you'll have to work hard for your Superman/Captain America abs. Maybe you won't quite reach the same results, but this abs-blasting workout will carve out a core more solid than vibranium.
[adinserter block="2"]
Deadpool
Ryan Reynolds has been dreaming of playing Deadpool all his life and he didn't take any shortcuts to get into shape for the role. Though Reynolds didn't deny himself any foods (too cool for diet), he did follow an intense workout plan.
[adinserter block="3"]
Ironman
Yeah sure, the suit does most of the work. But if you haven't the engineering skills to build one, then you're going to have to craft enough muscle to take its place. This three level, eight exercise circuit fires up most of your muscles.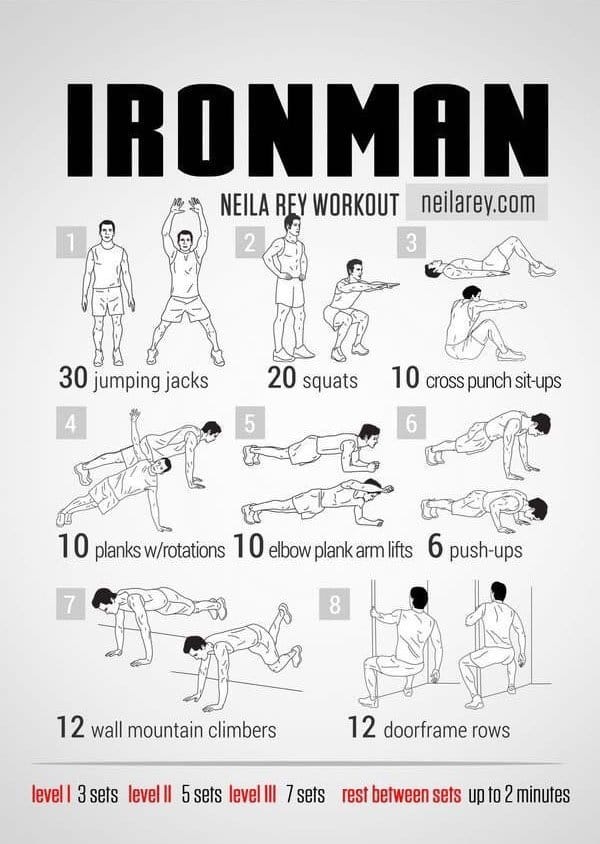 [adinserter block="4"]
 The Hulk
Bruce Banner didn't have to hit the gym before throwing tanks across town—but you'll have to. Follow this home workout routine to build a gigantic chest and shoulders.
Thor
Before picking up Mjolnir, you'll need a vast frame and thick muscles. By using an ever-changing regime you can challenge your physique in unpredictable ways.
Wolverine
It's not an exaggeration to say that Hugh Jackman's Wolverine physique set the bar for superheros. But building that kind of superhuman frame doesn't come easy. This programme can transform your body so drastically you can expect a call from Professor Xavier.
One-Punch Man Workout
Saitama is a bald hero with a huge problem – he is too strong to have a challenging fight! All he wants is a worthy antagonist, yet he often ends enemies with world-ending powers with a single punch. In the series, he reveals his secret training that transformed him from a humble man into a superhero. This is the One-Punch Man Workout!
Super Saiyan
You can only reach a Super Saiyan state if you go beyond your current limits. In true Goku fashion, the secret to super strength is simply to train more and train harder. So power up!
More themed workouts, fitness programs and challenges at neilarey.com